Peugeot 205 Manual
Removal
The radiator cooling fan may be removed with the radiator, as described in the preceding Section, and then separated.
Alternatively it may be unbolted or unclipped (as applicable) from the radiator after having removed the front grille and crossmember, and disconnected the wiring. The motor can be unbolted from the frame and then the fan removed from the motor (see illustrations).

6.1a Radiator cooling fan retaining clip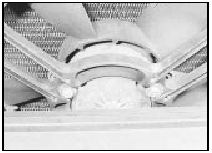 6.1b Radiator cooling fan to frame mounting bolts
No spare parts are available for the motor.
Refitting
Refitting is a reversal of removal.










© 2023 www.peugeot205.ru. All Rights Reserved.