Peugeot 205 Manual
Automatic transmission fluid level check (Every 6000 miles (9000 km) or 6 months)
1 Take the vehicle on a short journey, to warm the transmission up to normal operating temperature, then park the vehicle on level ground. The fluid level is checked using the dipstick located at the front of the engine compartment, directly in front of the engine (see illustration). The dipstick top is brightlycoloured for easy identification.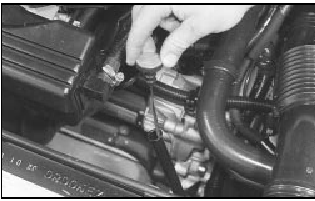 5.1 Withdrawing the automatic transmission fluid dipstick
2 With the engine idling and the selector lever in the УPФ (Park) position, withdraw the dipstick from the tube, and wipe all the fluid from its end with a clean rag or paper towel.
Insert the clean dipstick back into the tube as far as it will go, then withdraw it once more.
Note the fluid level on the end of the dipstick; it should be between the upper and lower marks (see illustration).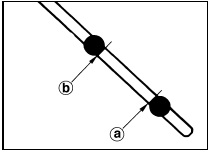 5.2 Automatic fluid dipstick lower (a) and upper (b) fluid level markings
3 If topping-up is necessary, add the required quantity of the specified fluid to the transmission via the dipstick tube. Use a funnel with a finemesh gauze, to avoid spillage, and to ensure that no foreign matter enters the transmission.
Note: Never overfill the transmission so that the fluid level is above the upper mark.
4 After topping-up, take the vehicle on a short run to distribute the fresh fluid, then recheck the level again, topping-up if necessary.
5 Always maintain the level between the two dipstick marks. If the level is allowed to fall below the lower mark, fluid starvation may result, which could lead to severe transmission damage.
6 Frequent need for topping-up indicates that there is a leak, which should be found and corrected before it becomes serious.










© 2023 www.peugeot205.ru. All Rights Reserved.