Peugeot 205 Manual
Removal
1 Chock the rear wheels then jack up the front of the car and support it on axle stands (see "Jacking and vehicle support"). Remove the front roadwheels. Disconnect the battery negative lead.
2 Drain the engine oil, then clean and refit the engine oil drain plug, tightening it to the specified torque. If the engine is nearing its service interval when the oil and filter are due for renewal, it is recommended that the filter is also removed, and a new one fitted. After reassembly, the engine can then be refilled with fresh oil. Refer to Chapter 1 for further information.
3 Remove the exhaust system front pipe as described in the relevant Part of Chapter 4.
4 Progressively slacken and remove all the sump retaining nuts and bolts. On cast-iron block engines, it may be necessary to unbolt the flywheel cover plate from the transmission to gain access to the left-hand sump fasteners.
5 Break the joint by striking the sump with the palm of your hand, then lower the sump and withdraw it from underneath the vehicle (see illustration).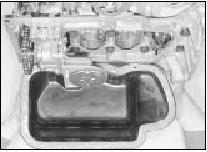 12.5 Slacken and remove the sump nuts and bolts, then remove the sump
6 While the sump is removed, take the opportunity to check the oil pump pickup/ strainer for signs of clogging or splitting. If necessary, remove the pump as described in Section 13, and clean or renew the strainer.
Refitting
7 Clean all traces of sealant from the mating surfaces of the cylinder block/crankcase and sump, then use a clean rag to wipe out the sump and the engine's interior.
8 Ensure that the sump and cylinder block/crankcase mating surfaces are clean and dry, then apply a coating of suitable sealant to the sump mating surface.
9 Offer up the sump, locating it on its retaining studs, and refit its retaining nuts and bolts. Tighten the nuts and bolts evenly and progressively to the specified torque.
10 Refit the exhaust front pipe as described in the relevant Part of Chapter 4.
11 Replenish the engine oil as described in Chapter 1.










© 2023 www.peugeot205.ru. All Rights Reserved.