Peugeot 205 Manual
Radio - removal and refitting
Removal
Note: If the radio incorporates an anti-theft system, once the battery has been disconnected, the radio unit cannot be reactivated until the appropriate security code has been entered. Do not remove the unit unless the appropriate code is known.
Early models
1 A standard radio aperture is provided in the centre console.
2 Disconnect the battery negative lead.
3 Pull off the control knobs and unscrew the mounting nuts. The surround can then be withdrawn and the radio removed after disconnecting the aerial and wiring (see illustration).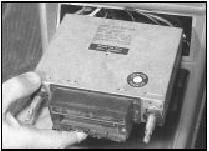 22.3 Removing the radio on early models
4 An in-line fuse is normally fitted to the feed wire behind the radio.
Later models
5 Disconnect the battery negative lead.
6 Remove the radio side trims (see illustration),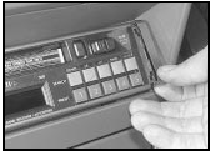 22.6 Removing the radio side trims on later models
and insert lengths of welding rod or metal dowel into the exposed holes to release the clips. Special tools are available for this operation from motor accessory shops or Peugeot dealers.
7 Withdraw the radio from the facia, and disconnect the aerial and wiring.
Refitting
8 Refitting is a reversal of removal.










© 2023 www.peugeot205.ru. All Rights Reserved.