Peugeot 205 Manual
Wiper arms - removal and refitting
Removal
1 Before removing a wiper arm, stick some masking tape to the screen glass, along the edge of the blade so that its position on the glass can be restored when the arm is being refitted to its spindle splines.
2 Flip up the plastic cover, unscrew the nut and pull the arm from the spindle (see illustrations).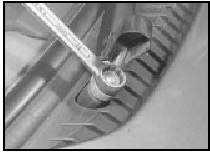 14.2a Unscrew the nut . . .

14.2b . . . and remove the wiper arm
Refitting
3 Refitting is a reversal of removal, but align the blade with the tape on the glass before pushing the arm home.










© 2023 www.peugeot205.ru. All Rights Reserved.