Peugeot 205 Manual
Headlight unit - removal and refitting
Removal
1 Remove the headlight and front parking light bulbs (see Section 8).
2 Remove the front radiator grille as described in Chapter 11.
3 Release the spring clips from the pivot pins on each side of the headlight (see illustration).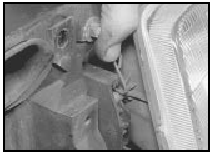 10.3 Releasing the headlight spring clips
4 Press the load level adjustment arm from the lever ball and withdraw the headlight.
Refitting
5 Refitting is a reversal of removal.










© 2023 www.peugeot205.ru. All Rights Reserved.