Peugeot 205 Manual
Speedometer cable - renewal
1 Disconnect the speedometer cable from the transmission by removing the retaining bolt or rubber plug.
2 Remove the instrument panel, as described in Section 5.
3 Prise the rubber grommet from the bulkhead beneath the facia (see illustrations).

7.3a Speedometer cable end with instrument panel removed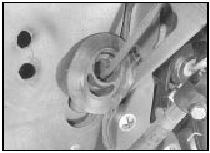 7.3b Speedometer cable grommet on the bulkhead
4 Remove the retaining clips, where fitted, and withdraw the speedometer cable.
5 Refitting is a reversal of removal.










© 2023 www.peugeot205.ru. All Rights Reserved.