Peugeot 205 Manual
Door (Cabriolet models) - dismantling and reassembly
Dismantling
Note: Refer to Section 12 for door lock, exterior handle and exterior mirror dismantling and reassembly procedures.
Window regulator
1 Remove the trim panel as described in Section 11.
2 Where applicable, disconnect the battery, then disconnect the wiring from the window regulator motor.
3 Unscrew the nuts and withdraw the regulator from the door.
Door glass
4 Remove the regulator then detach the weatherstrips from the top edge of the door.
5 Raise the glass, and lift it from the door.
6 Unscrew the mounting nuts, and remove the fixed quarterlight glass through the sliding glass location.
Reassembly
7 Reassembly is a reversal of dismantling, but carry out the following adjustments. Temporarily refit the window regulator handle, or reconnect the regulator motor wiring, as applicable, then close the window, and if necessary adjust the height of the window by reaching in through the speaker aperture and turning the screw indicated (see illustration).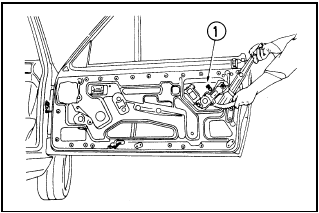 13.7a Door glass height adjustment screw (1) shown during removal of regulator assembly - Cabriolet models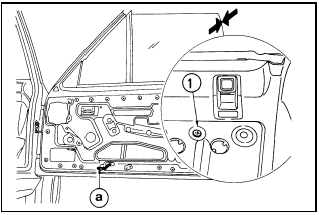 13.7b Door glass rear edge adjustment screw (1) on Cabriolet models a Switch wiring
(The illustration shows the regulator part-removed - with the regulator installed, access to the adjustment screw is possible through the speaker aperture.) Close the door, and check that the rear edge of the door glass seals correctly with the hood. If not, remove the cap and turn the screw shown (see illustration).










© 2023 www.peugeot205.ru. All Rights Reserved.