Peugeot 205 Manual
Steering column and lock - removal and refitting
Removal
1 Remove the steering wheel, (Section 13).
2 Remove the lower trim panel from under the steering column (see illustration).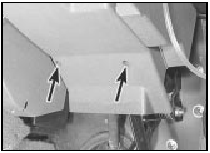 14.2 Steering column lower trim panel screws (arrowed)
3 Mark the column lower universal joint in relation to the intermediate shaft then unscrew and remove the clamp bolt (see illustration).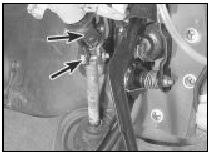 14.3 Steering column lower universal joint and clamp bolt (arrowed)
4 Remove the combination switches, as described in Chapter 12.
5 Disconnect the ignition switch wiring connectors.
6 Unscrew the mounting nuts and bolts, disconnect the inner column from the intermediate shaft, and withdraw the steering column from the car. Where shear bolts are fitted they must be drilled to remove the heads, then unscrewed after removing the column.
7 If necessary, the intermediate shaft can be removed after prising out the grommet and unscrewing the bottom clamp bolt (see illustration).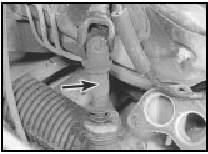 14.7 Steering column intermediate shaft (arrowed)
8 To remove the steering lock, unscrew the retaining bolt then, with the ignition key aligned with the small arrow between the 'A' and 'M' positions, depress the plunger in the housing and withdraw the lock (see illustration).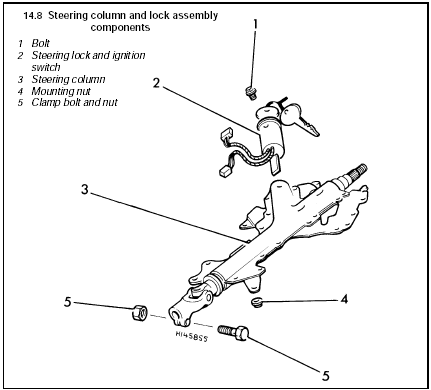 14.8 Steering column and lock assembly components
1 Bolt
2 Steering lock and ignition switch 3 Steering column
4 Mounting nut
5 Clamp bolt and nut
Refitting
9 Refitting is a reversal of removal.










© 2023 www.peugeot205.ru. All Rights Reserved.