Peugeot 205 Manual
Steering wheel - removal and refitting
Removal
1 Set the front wheels in the straight-ahead position.
2 Prise out the centre pad, then use a socket to unscrew the retaining nut (see illustration).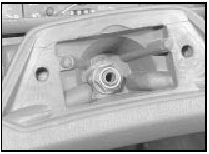 13.2 Steering wheel retaining nut
3 Mark the hub in relation to the inner column then pull off the steering wheel.
Refitting
4 Refitting is a reversal of removal, but check that the steering wheel is correctly centred with the front wheels straight ahead. Tighten the nut while holding the steering wheel rim.










© 2023 www.peugeot205.ru. All Rights Reserved.