Peugeot 205 Manual
Rear suspension assembly - removal and refitting
Removal
1 Chock the front wheels then jack up the rear of the car and support it on axle stands (see "Jacking and vehicle support").
2 Remove the handbrake cables, with reference to Chapter 9.
3 Remove the complete exhaust system, with reference to Chapter 4D.
4 Disconnect the flexible brake hoses from the rear suspension assembly, with reference to Chapter 9.
5 Unscrew the left-hand rear mounting nut, remove the exhaust bracket then temporarily refit the nut.
6 Unbolt and remove the front clamp and bracket (see illustration), but do not unscrew the seat belt anchorage (where fitted).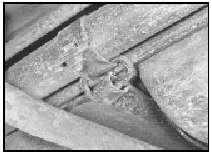 11.6 Rear suspension cross-tube front clamp and seat belt anchorage
7 Adjust the position of the car on the axle stands so that the rear wheels are just touching the ground, then place additional stands or jacks beneath the suspension tube.
8 Working in the luggage compartment unscrew the front and rear mounting nuts then carefully withdraw the assembly from under the car.
Refitting
9 Refitting is a reversal of removal, but tighten all nuts and bolts to the specified torque.
When tightening the front clamp make sure that the ring is centred in the seat belt anchorage bracket. Refer to Chapter 4D and 9 when refitting disturbed exhaust and braking system components and bleed the brake hydraulic system on completion.










© 2023 www.peugeot205.ru. All Rights Reserved.