Peugeot 205 Manual
Handbrake lever - removal and refitting
Removal
1 Move the front seats fully forward then remove the screw and lift the cover from the handbrake lever.
2 Fully release the handbrake then unscrew the adjustment nut on the rear of the cable compensator until both cables can be unhooked.
3 Unbolt and remove the handbrake lever assembly from the floor (see illustration).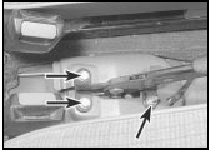 18.3 Handbrake lever mounting bolts (arrowed)
Refitting
4 Refitting is a reversal of removal, but adjust the handbrake, as described in Section 15 on completion.










© 2023 www.peugeot205.ru. All Rights Reserved.