Peugeot 205 Manual
Rear brake hub/drum - removal, inspection and refitting

Braking system

/ Rear brake hub/drum - removal, inspection and refitting
Note: Before starting work, refer to the warning at the beginning of Section 5 concerning the dangers of asbestos dust.
Removal
1 Chock the front wheels then jack up the rear of the car and support it on axle stands (see "Jacking and vehicle support"). Remove the rear roadwheels and ensure that the handbrake is released.
2 Tap off the grease cap, taking care not to damage its outer lip, then relieve the staking on the rear hub nut, using a suitable drift or chisel. Unscrew the nut and recover the washer (see illustrations).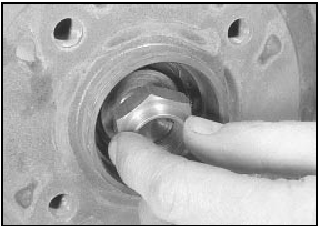 11.2a Unscrew the rear hub nut . . .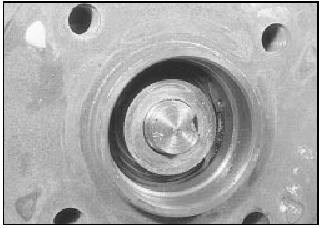 11.2b . . . and remove the washer
Should the stub axle rotate within the trailing arm, hold it stationary with a suitable Allen key on the inner. Note that a new rear hub nut will be required for refitting.
3 Withdraw the hub/drum from the stub axle.
If difficulty is experienced, due to the shoes wearing grooves in the drum, insert a screwdriver through one of the wheel bolt holes and depress the handbrake lever on the rear brake shoe so that it slides back behind the shoe. This will retract the shoes and allow the hub/drum to be removed.
Inspection
4 Brush the dust and dirt from the brake drum and carefully inspect the drum interior.
5 If the drum is grooved, owing to failure to renew worn brake shoes or after a very high mileage has been covered, then it may be possible to regrind it, provided the maximum internal diameter is not exceeded.
6 Even if only one drum is in need of grinding both drums must be reground to the same size in order to maintain even braking characteristics.
7 Judder or a springy pedal felt when the brakes are applied can be caused by a distorted (out-of-round) drum. Here again it may be possible to regrind the drums, otherwise a new drum will be required.
Refitting
8 Fit the hub/drum on the stub axle and retain with the washer and new hub nut.
9 Tighten the nut to the specified torque then lock it by staking the nut flange into the groove on the stub axle (see illustration).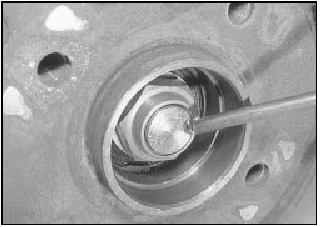 11.9 Lock the hub nut by staking the nut flange into the groove on the stub axle
10 Tap the grease cap into the hub/drum.
11 Refit the roadwheels and lower the car to the ground.










© 2023 www.peugeot205.ru. All Rights Reserved.