Peugeot 205 Manual
Rear brake caliper (1.9 GTI models) - removal, overhaul and refitting

Braking system

/ Rear brake caliper (1.9 GTI models) - removal, overhaul and refitting
Note: Before starting work, refer to the warning at the beginning of Section 2 concerning the dangers of hydraulic fluid, and to the warning at the beginning of Section 6 concerning the dangers of asbestos dust.
Removal
1 Remove the brake pads as described in Section 6.
2 To minimise fluid loss, unscrew the master cylinder reservoir filler cap and place a piece of polythene over the filler neck. Secure the polythene with an elastic band ensuring that an airtight seal is obtained. Alternatively, use a brake hose clamp, a G-clamp, or a similar tool with protected jaws, to clamp the rear flexible hydraulic hose.
3 Clean the area around the hydraulic hoseto- caliper union, then slacken the hose union half a turn. Be prepared for fluid spillage.
4 Unhook the handbrake cable from the lever on the caliper, and withdraw the outer cable (see illustration).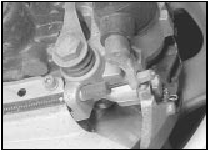 8.4 Handbrake cable attachment at rear brake caliper
5 Unscrew the two mounting bolts, withdraw the caliper from the disc, then unscrew the caliper from the brake hose. Plug the hose to prevent loss of fluid.
Overhaul
6 This is essentially the same procedure as that described in Section 7 for the front caliper.
Refitting
7 To refit the caliper, first screw it onto the brake hose and locate it over the brake disc, so that the hose is not twisted.
8 Clean the mounting bolt threads, and apply a little locking fluid. Insert the bolts together with the anti-rotation plate, and tighten them to the specified torque.
9 Tighten the brake hose union.
10 Insert the handbrake outer cable, and re-connect the inner cable to the lever.
11 Refit the brake pads as described in Section 6.
12 Remove the brake hose clamp or polythene sheeting, and bleed the hydraulic system as described in Section 2.
13 Check and if necessary adjust the handbrake, as described in Section 15.










© 2023 www.peugeot205.ru. All Rights Reserved.