Peugeot 205 Manual
Ignition module (distributorless ignition systems) - removal and refitting

Ignition system

/ Ignition module (distributorless ignition systems) - removal and refitting
Removal
1 The ignition module is mounted on the lefthand end of the cylinder head.
2 Disconnect the battery negative lead.
3 Where necessary, remove the air cleaner ducting for improved access.
4 Depress the retaining clip and disconnect the wiring connector from the module.
5 Make a note of the correct fitted positions of the HT leads then disconnect them from the module terminals (see illustration).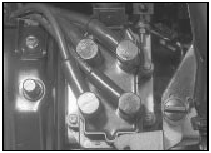 6.5 HT lead connections on the static distributorless ignition module
6 Undo the four retaining screws securing the module to its mounting bracket and remove it from the engine.
Refitting
7 Refitting is a reversal of removal.










© 2023 www.peugeot205.ru. All Rights Reserved.