Peugeot 205 Manual
Electro-pneumatic ignition retarding system components - removal and refitting
Solenoid valve
Removal
1 The valve is located on a bracket at the rear of the engine compartment. To remove the valve, proceed as follows.
2 Disconnect the battery negative lead, then disconnect the wiring plug from the valve (see illustration).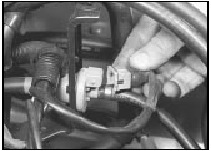 6.2 Disconnecting wiring plug from ignition retarding system solenoid valve
3 Note the orientation of the valve, then disconnect the hoses from the valve, and pull the valve from its bracket.
Refitting
4 Refitting is a reversal of removal, ensuring that the valve is correctly orientated, as noted before removal.
Coolant temperature sensor Removal
5 The sensor is located in the left-hand end of the cylinder head, below the engine coolant temperature sensor for the fuel injection system.
6 To remove the sensor, partially drain the cooling system (see Chapter 1), then disconnect the wiring, and unscrew and remove the sensor.
Refitting
7 When refitting the sensor, ensure that the seal is in good condition, and take care not to overtighten the switch. Refill the cooling system on completion as described in Chapter 1 and "Weekly checks".










© 2023 www.peugeot205.ru. All Rights Reserved.