Peugeot 205 Manual
Throttle cable - removal, refitting and adjustment
Removal and refitting 1 Refer to Chapter 4A, Section 3 substituting "throttle body" for all references to the carburettor. Adjust the cable as described below.
Adjustment
2 Remove the spring clip from the adjustment ferrule then, ensuring that the throttle cam is fully against its stop, gently pull the cable out of its grommet until all free play is removed from the inner cable.
3 With the cable held in this position, ensure that the flat washer is pressed securely against the grommet, then fit the spring clip to the third ferrule groove visible in front of the rubber grommet and washer (see illustration).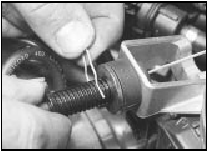 3.3 Adjust the throttle cable as described in text
This will leave a fair amount of freeplay in the inner cable which is necessary to ensure correct operation of the idle speed control motor.
4 Have an assistant depress the accelerator pedal and check that the throttle cam opens fully and returns smoothly to its stop.










© 2023 www.peugeot205.ru. All Rights Reserved.