Peugeot 205 Manual
Fuel gauge sender unit - removal and refitting
Note: Observe the precautions in Section 1 before working on any component in the fuel system.
Removal
1 Disconnect the battery negative lead.
2 Raise the rear seat cushion.
3 Remove the circular plastic cover to expose the sender unit (see illustrations).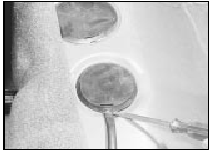 6.3a Remove the circular plastic covers . . .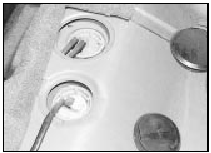 6.3b . . . for access to the sender unit and fuel supply and return pipes
4 Disconnect the electrical lead.
5 Using a suitable tool, unscrew the sender unit mounting plate to release it from the securing tabs.
6 Withdraw the sender unit, taking care not to damage the float as it passes through the hole in the tank.
Refitting
7 Refitting is a reversal of removal, but use a new sealing ring if there is any doubt about the condition of the original one.










© 2023 www.peugeot205.ru. All Rights Reserved.