Peugeot 205 Manual
Fuel pump - removal, overhaul and refitting
Note: Observe the precautions in Section 1 before working on any component in the fuel system.
Mechanical fuel pump
Removal
1 Disconnect the battery negative lead.
2 Where necessary for improved access, remove the air cleaner assembly as described in Section 2.
3 Disconnect the fuel hoses from the pump.
Plug the inlet hose.
4 Unscrew the pump mounting bolts and lift the pump away (see illustrations).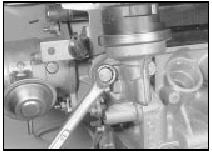 5.4a Removing the fuel pump on TU series engines . . .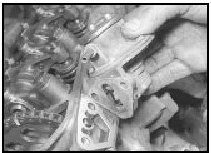 5.4b . . . and XV, XW and XY series engines
5 Remove the gasket.
6 Once the pump is removed on XV, XW and XY series engines, the pushrod may be withdrawn.
7 If the pump is to be dismantled, remove the cover, gasket and filter screen (see illustrations).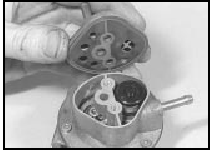 5.7a Removing the fuel pump cover . . .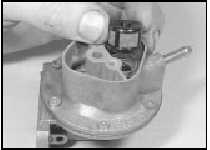 5.7b . . . and filter
Note that dismantling can only be undertaken on the pump fitted to XV, XW and XY series engines; The TU series engine pump is a sealed assembly and no repair or overhaul is possible.
Overhaul
8 Scribe a mark across the edges of the upper and lower body flanges and extract the flange screws.
9 Remove the upper body.
10 Drive out the operating arm pivot pin, withdraw the arm and lift out the diaphragm.
11 Obtain a repair kit which will contain a new diaphragm and the necessary gaskets.
12 If the valves are damaged, reassemble the pump and obtain a new one complete.
13 If the valves are in good condition, locate the diaphragm, push the operating arm into position so that its forked end engages with the groove in the end of the diaphragm rod, with the coil springs in position.
14 Fit the pivot pin and stake around the holes to secure both ends of the pin.
15 Fit the upper body so that the alignment marks are opposite and then fit the screws and tighten evenly.
16 Fit the filter screen and cover with gasket.
Refitting
17 Refitting to the cylinder head is a reversal of removal, but fit a new gasket.
Electric fuel pump
18 Refer to the procedures contained in Part B, Section 5.










© 2023 www.peugeot205.ru. All Rights Reserved.